COPL made clear that the Board is fully responsible for its environmental, social and governance matters, ensuring that sustainability considerations are incorporated into the business decision-making process from a top-down approach. The Sustainability Steering Committee, comprising members of the Board, including three independent non-executive directors, was constituted to assist the Board in formulating and reviewing sustainability strategies and approach, as well as monitoring COPL's sustainability performance. Under this governance structure, COPL has also established a Sustainability Coordination Group and a Sustainability Working Group to implement relevant policies and measures and to report to stakeholders through the ESG Report.
COPL's sustainability governance structure will not only enable the Board to take a leading role and be accountable for the Group's sustainability matters, but also enable greater collaboration between departments to ensure effective implementation of the decisions made by the Sustainability Steering Committee.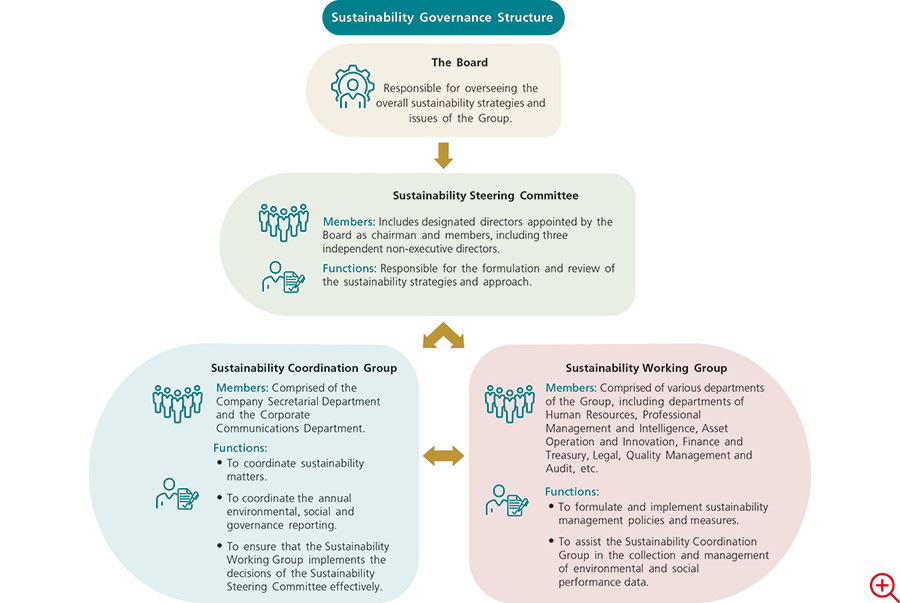 
In addition, the Group has engaged a sustainability consultant to analyse global and industry sustainability trends. The consultant communicated closely with COPL, so that it can always gauge the pulse of the property management industry and make timely responses, gradually develop itself into an internationally recognised leading enterprise in sustainability.